Implementasi Augmented Reality untuk Pengembangan Aplikasi Pengenalan Senjata Tradisional Kujang
Muhammad Azhar Khairi

-

TB Ai Munandar

Siti Setiawati
Keywords:
Kujang, Augmented Reality, Vuforia, Marker
Abstract
Kujang merupakan salah satu senjata tradisional yang menjadi ciri khas Jawa Barat. Namun masih banyak masyarakat yang belum mengetahui makna dan jenis-jenis dari kujang. Untuk mengenal kujang saat ini sangat sulit, dikarenakan sedikitnya masyarakat yang mempunyai atau mengkoleksi kujang. Dan juga tidak semua museum mempunyai jenis-jenis kujang yang lengkap, seperti Museum Pusaka Taman Mini Indonesia Indah (TMII). Museum tersebut hanya memiliki 4 jenis kujang yang dapat diperkenalkan. Informasi yang diberikan kepada pengujung juga tidak terlalu banyak. Penelitian ini bertujuan untuk mengembangkan aplikasi pengenalan senjata tradisional kujang menggunakan augmented reality, sehingga memudahkan pengunjung Museum Pusaka Taman Mini Indonesia Indah (TMII) untuk mengenal kujang dengan melihat bentuk secara 3D serta menambahkan materi mengenai kujang. Penggunaan aplikasi augmented reality ini menggunakan marker yang nantinya akan dideteksi oleh kamera dan memunculkan objek 3D. Pembuatan aplikasi augmented reality ini menggunakan tools vuforia. Hasil penelitian memperlihatkan bahwa aplikasi yang dikembangkan sangat diterima dengan baik oleh pengguna. Hal ini diperlihatkan dengan nilai system usability scale dari 58 responden yang menghasilkan skor rata-rata SUS sebesar 82,97. Skor tersebut termasuk ke dalam grade scale B, adjective rating good, dan acceptable ranges high.
Kata kunci: kujang, augmented reality, marker, vuforia.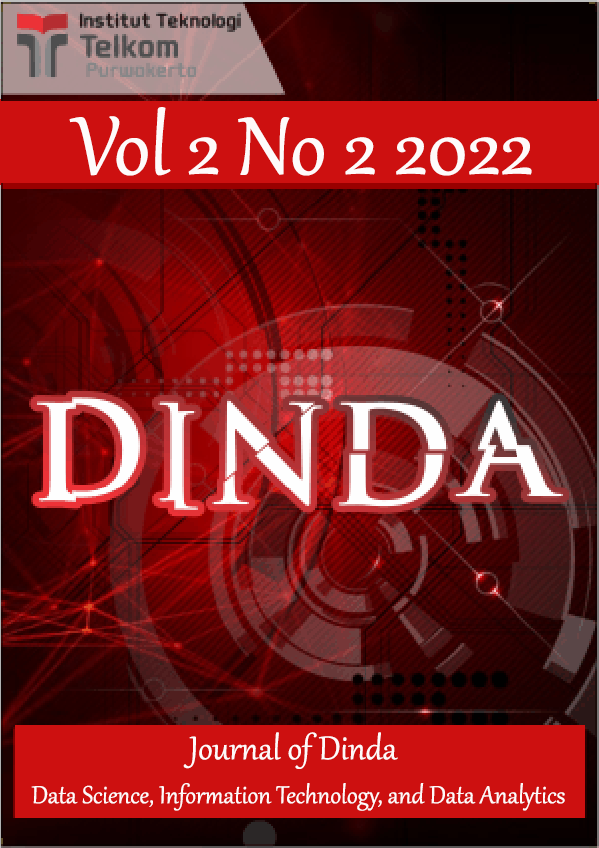 Copyright (c) 2022 Journal of Dinda : Data Science, Information Technology, and Data Analytics
This work is licensed under a Creative Commons Attribution-ShareAlike 4.0 International License.